Eminent IT Solution SAP-based enterprise solutions help companies create distinctive capabilities, simplify complex processes and establish a unique formula for success.
EMINENET IT Solutions SAP Implementation Services offers you the best business experience through proven SAP methodology and tools to cost-effectively implement the SAP suite modules and applications.
Over the years, we have built a strong reputation among our clients for delivering high quality, on time, on-budget implementation engagements.
The SAP specialists in Eminent IT Solution has extensive 'hands-on' experience and in-depth knowledge in planning the best SAP implementation approach based on your enterprise requirements.
Our SAP Practice is uniquely positioned to address the Business and IT challenges with expertise in the area of Enterprise Level Services, Industry Solutions and Business Solutions. Our SAP practice helps our clients to better understand how the value of their content, infrastructure and distribution system spans within the sector.
100% commitment to SAP solutions, services and technologies
Dedicated SAP Practices – ERP, CRM, SRM, SCM, BI and Net Weaver/Portals
Senior SAP experienced consulting team with both industry and SAP experience
Eminent IT Solution pre-configured Industry and Solution templates
Our consultants work closely with SAP COE and SAP Product Development
Our SAP Implementation Services Methodology
Our proven implementation methodology is powered by "SAP Solution Manager" which enables you to stay connected with SAP's service and support infrastructure. To accelerate the SAP implementation life- cycle, we follow ASAP Implementation methodology, which follows a consistent business-process and phase-oriented approach. We use in-house tools and templates for SAP implementation which provides cost-effective yet standardized services across all user groups resulting in better return on investment for all our clients. Effective use of the SAP Solution Manager increases the reliability of solutions and lowers the total cost of ownership.
For Industry Solutions, we have also developed Industry Implementation tools and templates which help our clients in delivering a fully documented and tested business processes and also assure our customers support ability to their SAP environment well into the future.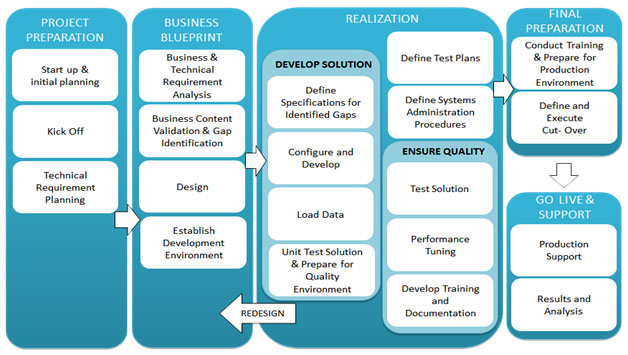 If you want to increase the value of your application you already have, we can help.
Our Services include
SAP Implementation services and Optimization
Enterprise Solution Testing
SAP Application Management and Support
SAP Upgrade and Consolidation Services
Business Intelligence and Analytics
SAP Mid-Size Business Solutions
SAP Mobility Services
SAP Managed Services
SAP Portal Services
Advantage
We have a dedicated business unit to look for our clients SAP needs and requirements. Our clients can expect Eminent IT Solution to:
Utilize our extensive collection of local and global expertise
Solve problems faster
Use consultants and experts with business and IT backgrounds
Provide strategic roadmap sessions for SAP planning
Maintain high confidentiality
24 x 7 technical support and maintenance
100% transparency, through-out project